Welcome to Rivers Jewellers
The home of unique and truly beautiful jewellery since 1980.Rivers Jewellers is a proudly independent jewellery store, with two permanent onsite jewellers. Whether you're after a hand crafted bespoke engagement ring or if you just require some information, rest assured when you arrive at Rivers Jewellers, you can always speak with your friendly local jeweller to get the right advice for your specific needs! All jewellery repairs are done in our onsite workshop by our fully qualified jewellers. Jewellers who have a combined 75 years!
So for jewellery repairs or bespoke jewellery creations… come into Rivers Jewellers.
At Rivers Jewellers we also offer a wide variety of sophisticated jewellery collections from around the globe. We are proud to offer you individual collections that are far from main stream.
So for that perfect gift or to treat yourself… visit Rivers Jewellers.
What are you waiting for? We look forward to seeing you very soon!
News from the workshop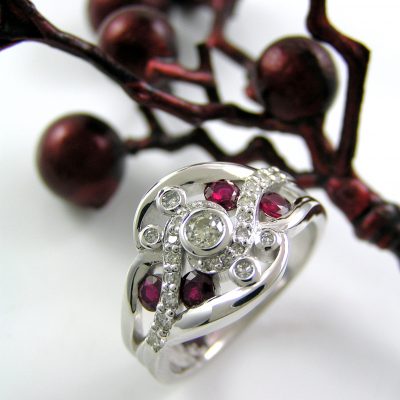 Swirling around in the recesses of your mind there is at the very back of your consciousness, a concept, an image, a fantasy…
Every now and again this cogitation comes to the fore and you wonder .. is it possible for something which has for so long only been a fantasy, to become an actual reality?
The answer is Yes!  That echoing muse you've had can step out of the shadow and become an actual glistening sparkling jewellery reality.
If you don't believe me why not check out our custom design page, that is full of pieces we've created from the imagination of clients just like you.
See you soon!
26th July, 2017